Security Systems and Security Camera Systems in Jupiter, FL
When it comes to security you can't afford to take a risk. At Accelerated Technologies and Services, we offer Jupiter, FL, and the surrounding areas a range of security system technologies to provide 24-hour surveillance and security for homes and businesses.
Our professional team helps you understand the different security systems available to prevent crime and monitor the daily activities of your home or business. Working with your needs and your budget in mind, we help you make informed decisions on purchasing the right security system at the right price.
Security Surveillance Systems in Jupiter
There's nothing more valuable than safety. From keeping you and your loved ones protected, to protecting your business and your belongings, security systems provide you with the technology needed to watch over your home and your business day and night. However, with a range of security system options available to you, it can be difficult to know what kind of security system fits your specific requirements. Two of the most common security camera system options for Jupiter, FL are wireless security camera systems and wired security camera systems.
Wireless Security Camera Systems
Wireless security camera systems are a great option for homeowners and businesses that frequently relocate. With no cables holding them down, wireless security systems can be moved from location to location for surveillance on the go. Connecting directly to Wi-Fi, wireless security camera systems have become a popular option for homeowners and small business owners in South Florida.
Wired Security Camera Systems
Wired security camera systems are a more permanent security system that provides reliable surveillance to homeowners and businesses. Not susceptible to interference from wireless signals, wired security systems provide a physical connection between cameras, recorders, and routers making them ideal for large businesses and homeowners looking for optimal security function.
Security Systems in Jupiter, Florida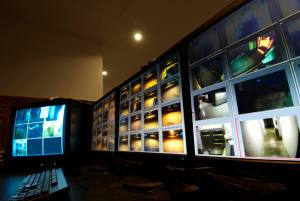 Seated on the Southeast coast of Florida, Jupiter is a historical beachfront city inhabited by a diverse population of residents. With a range of indoor and outdoor activities, not only is Jupiter a great place to live, but it's a great place to own and operate a business. At Accelerated Technologies and Services, we help Jupiter, FL residents, and businesses stay protected with security surveillance system technology from leading surveillance camera brands such as NUUO and SPECO Technologies.
Security surveillance system technology is essential for homeowners and businesses that want to promote a safe environment 365 days a year. From night camera technology to digital video recording systems (DVR), our team of technicians works with you to find the right security surveillance system for your needs and your budget. Contact us today to get a free quote and chat with a professional about your security surveillance system needs.