Network Wiring, Network Cabling, Cat 6 Cabling, Cat 5 Cable and Low Voltage Cabling for Boynton Beach, Delray Beach, Jupiter FL, Martin County, Palm Beach & Surrounding Areas
Accelerated Technologies and Services are your Cabling Experts
Working with cables and connecting them properly is not an easy task, and certainly not one that should be taken on by someone with little to no training or experience. The consequences of bad cabling and wiring can range from minor aggravations to major safety issues. Trust Accelerated Technologies and Services to handle your cabling project professionally and, most importantly, safely. We are licensed and insured low voltage cabling contractors. Some contractors are not licensed and say they can do the wiring for the cameras. But they cannot pull a permit if needed.
We offer free cost and time estimates on most projects, and work quickly to ensure you can get back to your daily activities in a timely manner.
Network Cabling for Commercial Audio and Video Systems
Having a professional networking technician isn't limited to just big businesses. In many cases, having business audio and/or video in multiple rooms is the goal, but it's not as straight forward as you might think. A conference room is very important, but to do it right you will need to make sure you have quality video and speakers that are tied into the system right, and that things just "work." Accelerated Technologies will make sure that your system just "works" like you want it to.
Cat5e, Cat6 and Fiber Optic Cabling for Office Buildings, Server Rooms, Etc.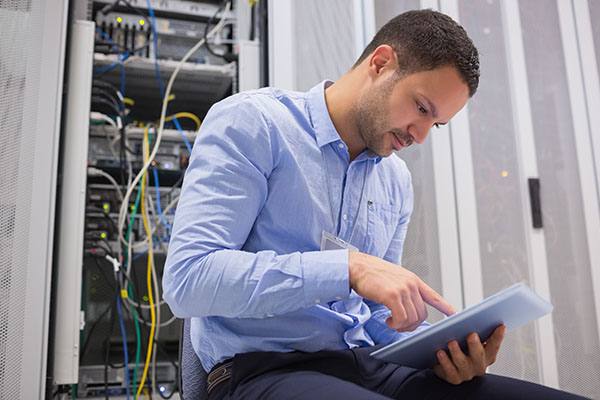 In order for your office to run smoothly, you need each computer and office to have a hardwired connection to your network and the internet. Likewise, all of your IP phones must have a dedicated network connection so that they can be used to conduct business. Not only that, but network-connected devices, including printers, copiers, HVAC thermostats, security systems and more all need cabling as well. And they all go to your server closet/room and need to be kept neat and tidy while also being effective and efficient. Accelerated Technologies and Services will draw up a full diagram of everything that is needed and make easy work of this often-complicated task.
Installation, Repair, and Maintenance of Network Wiring
Accelerated Technologies and Services is your one-stop-shop when it comes to cabling of all types. We provide installations in both new construction as well as remodeling and renovation projects and ensure that all cabling is routed properly and not spread all over like spaghetti. We also provide cabling repair and replacement services and recommend upgrades at the time of repairs based on your current and future needs by providing ongoing maintenance and creating proactive solutions to help ensure your business never has a hiccup.
Interested in switching to Accelerated Technologies & Services?
We are licensed and insured low voltage cabling contractors.
Contact us today for a customized quote.