Security Systems in Delray Beach, FL
When you are looking to enhance security systems, what are the main features you are looking for? Are you looking for alarms and locks, but what about knowing exactly what is happening and how best to respond? Security systems are a large part of a robust security secure for any house or business in Delray Beach. This is because security cameras have the ability to help before, during, and after any event.
Security camera systems and surveillance provide invaluable value to your overall security system. What about any suspicious activity before something bad happens? And think about the aftermath of an incident. What do you need to prove your side of a story? Or that it was not a random event, that it was built up? Or that it was truly a crime and get those responsible to get prosecuted? Nothing beats having the video evidence of an incident.
Security Camera Systems and Surveillance in Delray Beach
Video security systems provide you with the control to know what is going on before a break-in or help explain all the questions you have after. But where do you even start? So many different video security systems exist that knowing which is the right one for your Delray Beach home or business can take time. Combing through the different features and trying to stay within the budget you want can be exhausting and time consuming. You might see a new system with great features buy only to discover it won't work with the other elements of your security systems. Time to call in the professionals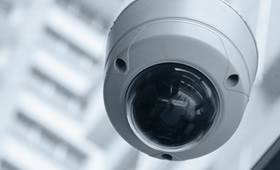 Since 1999, Accelerated Technologies & Services has been providing technology solutions for Delray Beach business and residential customers. We don't want to just provide equipment; we want to help you find the security systems solutions you are looking for.
If you know exactly what you are looking for, that's great. If not, let us know what type of security you want, the features and needs and we will go through the different options. We work with different equipment features and manufacturers for:
CCTV
IP Cameras
HD-TVI Cameras
The features for various video security systems are endless – night visions, high def, movement notification, sound notification, smart tablet/phone notification, and more. And if you need it, we can synch your systems with a monitoring station for 24/7/365 top monitoring access. For more information on security systems in Delray Beach, FL, contact Accelerated Technologies & Services today.
Security Systems in Delray Beach, Florida
Delray Beach is a great place to experience the bustle of South Florida with the charm of "Old Florida". Once a small village, today the city has many different neighborhoods and of course, the famous Atlantic Avenue. With all different types of restaurants and boutiques, the street has so much to offer residents and visitors all the way to the Atlantic Ocean.