Electrical wiring and trim that requires less current to power infrastructure technologies like phones, security wires, fire alarms, intercoms, the internet, and so on are referred to as low-voltage cabling. Low-voltage cabling gives homeowners more flexibility and control over how their home works because they were designed with modern living in mind. As a result, electrical wiring is less dangerous and uses less energy.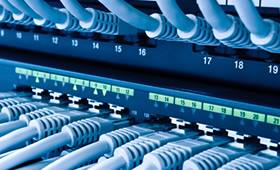 Let us look at the advantages of using low-voltage cabling: 
One of the best things about low-voltage wiring is that it can be used for a lot of different things in almost any building.

 
Because it uses less power than standard electrical wiring, low-voltage wiring is more energy efficient.

 
When installed upfront or with conduit, low-voltage wiring is more scalable and simplifies installation. Low-voltage wiring can be customized to meet the requirements of any business or organization.

 
Low-voltage cabling is less likely to be electrocuted.

 
Nowadays, businesses are expected to have low-voltage wiring, which can improve business efficiency, leaseability, and other outcomes. The majority of older buildings only have telephone and dial-up connections. Voice, video, and data all use low-voltage wiring in today's world.

 
Low-voltage cables supply devices with line-supplied power, eliminating the need for batteries.

 
You can rely on Accelerated Technologies and Services to manage your cabling project safely and professionally. We are low-voltage cabling contractors with insurance and a license. Some contractors claim to be able to install the cameras' wiring but are not licensed. But they can't get a permit if they have to. On most projects, we provide free cost and time estimates and work quickly to get you back to your daily routine as soon as possible. Contact us if you are based around Stuart, Wellington, Martin County, West Palm Beach, Palm Beach Gardens, and Palm Beach areas.