When it comes to cabling connections, it might be a time-consuming process. And if it is not done carefully, it can cause significant damage and even put our lives in jeopardy. Low voltage cabling decreases the risk of major electric shock while also making outdoor lighting installations safer when exposed to rain and dampness. If they aren't correctly connected, the result might kill us or put the house on fire.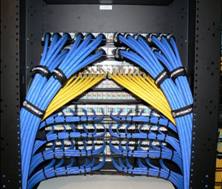 The advantages of using low voltage cabling are because:
Low-voltage cabling is necessary for a smooth operation in the office and at home. To complete their everyday tasks, an office requires access to the internet via a computer. Similarly, for our IP phones to work, they must be linked. Printers, HVAC, copiers, security systems, and thermostats all require low voltage cabling. As a result, low voltage cabling is required for the safety of people and the workplace. To hold a meeting in groups and keep connected with clients, an audio and video system is essential in any corporate setting.
This system is suited for rural distribution and is particularly appealing for installation in challenging terrain like hilly areas, dense forests, coastal regions, and so on. These lines can be installed without the need to cut or trim any trees. Even in densely populated locations with tight gaps between buildings, where bare conductors are normally not viable to run, it is convenient to lay. The cable's insulation also protects against unintentional electrocutions.
Accelerated Technologies and Services can assist with the installation of all cabling in new construction, remodeling, and renovation projects. Residents in the surrounding areas of Wellington, Palm Beach Gardens, Palm Beach, Jupiter, FL, Boynton Beach, and West Palm Beach can contact them.
The wonderful thing about Accelerated Technologies and Services is that we are not only experts at what we do, but we also provide free cost and time estimates most of the time and ensure that the task is completed as quickly as possible so that we can return to our regular routines.