Cat 5 Cable and Cat 6 Cabling with Low Voltage Cabling for Residents of Port St Lucie, Florida
Like many towns in South Florida, Port St. Lucie came into its heyday in the 1950s and early 1960s. The General Development Corporation opened the new town to automobile traffic with the construction of a bridge over the St. Lucie River in 1959.
Port St. Lucie is now the third-largest city in South Florida. Its natural beauty can be savored at the Riverwalk Boadwalk, the Port St. Lucie Botanical Gardens, and the McCarty Ranch Preserve. The New York Mets come to First Data Field in Port St. Lucie for spring training, enjoying the consistently sunny weather and warm temperatures. Serious golfers can play through 54 holes at the PGA Village golf complex. The city also hosts the Port St. Lucie Soccer Club and the Mako Soccer Club.
Actress Megan Fox spent her formative years in Port St. Lucie, as did basketball star Larry Sanders. LPGA legend Mickey Wright now makes her home in Port St. Lucie.
Many people and businesses have chosen Port St. Lucie as their home because of its high standard of living, bustling economy, and proximity to major transportation arteries. At the mid-point between Orlando and Miami, Port St. Lucie is at the epicenter of South Florida commerce.
Business Phone Systems for Your Port St. Lucie Company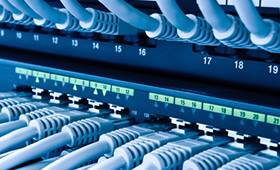 Of course, a good location won't help your business if you don't have a solid communications infrastructure. If you don't specialize in communications technology, you may not be sure how current or effective your existing business phone system is. You need an industry leader to evaluate your communications setup.
Accelerated Technologies & Services brings two decades of hands-on experience with business technology solutions to South Florida companies like yours. We'll carry out a complimentary analysis of the business phone systems at your Port St. Lucie-based establishment. Then, we can work with you to develop a communications infrastructure that will ably serve your business, both now and in the future.
We can install a hosted VoIP (Voice over IP) system, using your company's internet connection to streamline communications and add useful features such as number porting, conference bridges, and automatic call logging.
Security Cameras for Your Port St. Lucie Locations
With the success that your enhanced business phone systems will bring, you'll want to protect your company with top-of-the-line surveillance equipment. Accelerated Technologies has the knowledge and experience to outfit your corporate offices and stores with IP cameras, network video recorders, and mobile interfaces that will allow you to monitor security footage from anywhere in the world using apps on your Android or iOS devices.
We'll use secure and encrypted network protocols to protect your surveillance data, allowing authorized users easy access to security camera images while blocking hackers from reaching your network.  If you're still using an analog SD-CCTV system, we can help you upgrade to a high-definition installation that's accessible not only via CCTV, but also through a secure internet connection.
Data Cabling to Tie It All Together
Accelerated Technologies can also speed up your internal network. We'll update your data cabling infrastructure from slower Cat-5 cable to speedier Cat-6 cabling.
If you need to network a background music or paging system at your commercial locations, we can install low voltage cabling for this purpose. Whatever your data cabling, business phone system, or security camera needs, Accelerated Technologies & Services has the technical savvy to analyze your current setup, develop an upgrade plan, and implement it seamlessly—bringing the benefits of the latest technology to boost your Port St. Lucie business.